Try Brisbane's best aerial yoga classes
---
Bend & Fly is Brisbane's leading AntiGravity® Aerial Yoga Studio and it's only Silver Studio (licensed to host AntiGravity® Teacher Training) where you'll be expertly led by the best instructors including AntiGravity® Master Trainers. Come experience the joy of flight with Aerial Yoga's zero compression inversions – great for spinal health, flexibility, strength, mindfulness and playfulness.
Aerial Yoga at Bend & Fly is open to all levels – we've made it suitable for all shapes, sizes and skill levels. Through our Aerial Intro Course and classes, we will safely take you from complete novice to high flying aerialist in a short period of time. From there, you can unleash your inner 'Pink' progressing to Aerial Flow, Flow Level 2 and Aerial Fitness Classes. For a slower pace, try a Floating Meditation, Aerial Decompression or Aerial Restorative Class where you'll feel like you're floating, cocooned by the silk hammock – while decompressing your spine.
AntiGravity® is also a decompression system that can aid you in restoring the health of your spine by reversing the effects of gravity. Learn how the AntiGravity hammock can gently restore and repair the muscular, structural and nervous systems of the body.
Flip Your Fitness with Aerial Yoga
Aerial fundamentals 1 & 2 Courses
Fundamentals 1 is our popular 3 Week Beginners Course taking you from novice to high flyer. Starts every 3 weeks on Sundays 10am and some selected Monday night dates (check dates).
Fundamentals 1 Special Intro Offer: $75 Includes Bonus 3 Classes
Fundamentals 2 Course is is the next step in your aerial progression after completing either Fundamentals 1 or your first set of aerial yoga classes (Check out the below link for more info)
Fundamentals 2 Special Intro Offer: $75 Includes Bonus 3 Classes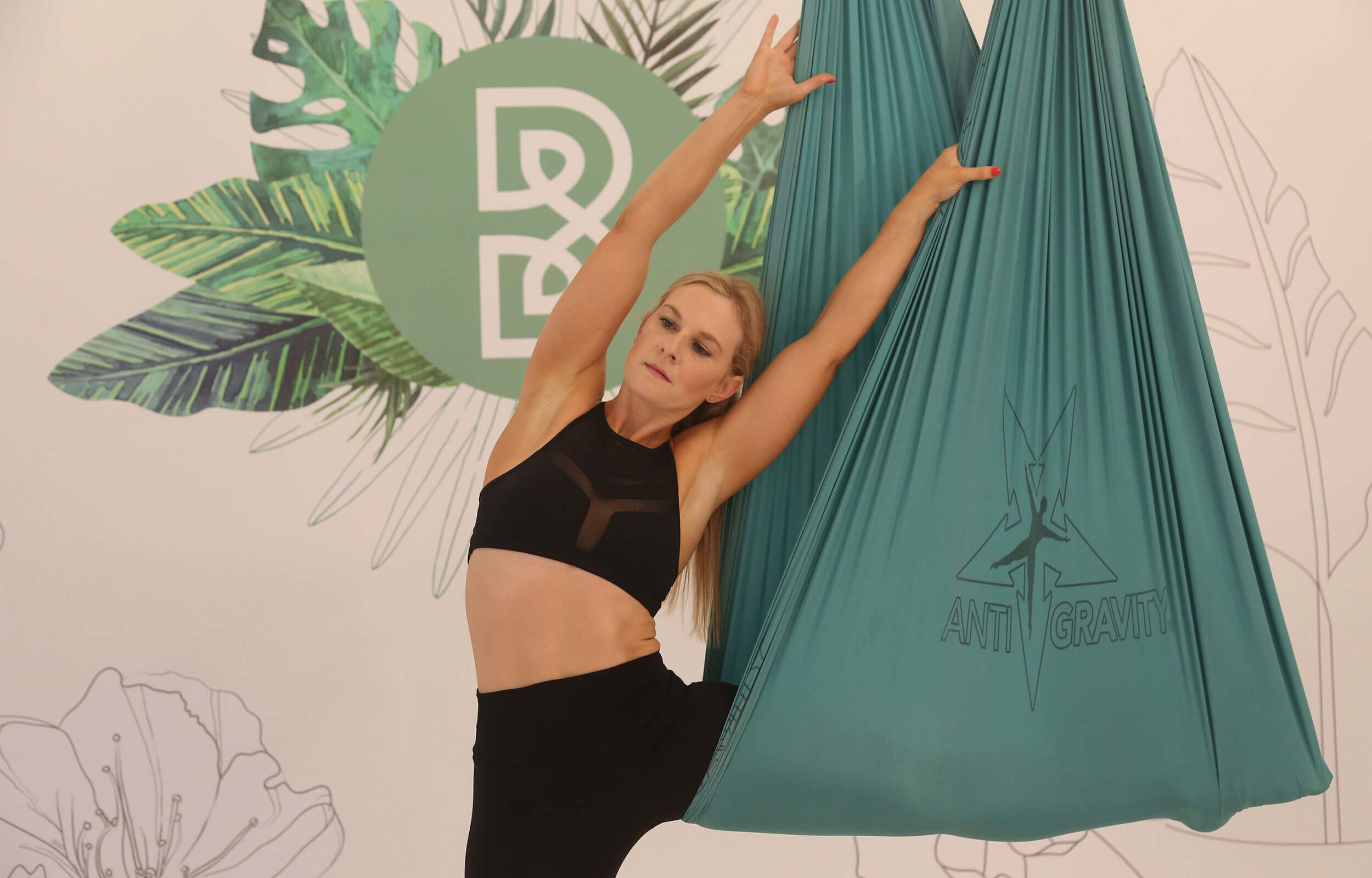 Aerial yoga, fitness & restorative classes
Experience the joy of Aerial Yoga/Fitness with our weekly classes starting with an Aerial Intro Class or Aerial Flow All Levels, Aerial Decompression All Levels, Signature Class (no pre-requisite) – then take flight with Aerial Flow – then Aerial Fitness, Aerial Flow Level 2 and Aerial Play Level 2.
One on One personalised aerial sessions
ONE ON 1 Personal Aerial sessions are the most effective way to learn Aerial Yoga. Using AntiGravity® Aerial Yoga and other yoga therapies, ONE ON 1 is also used as a remedial tool, especially for back or neck pain and other injuries.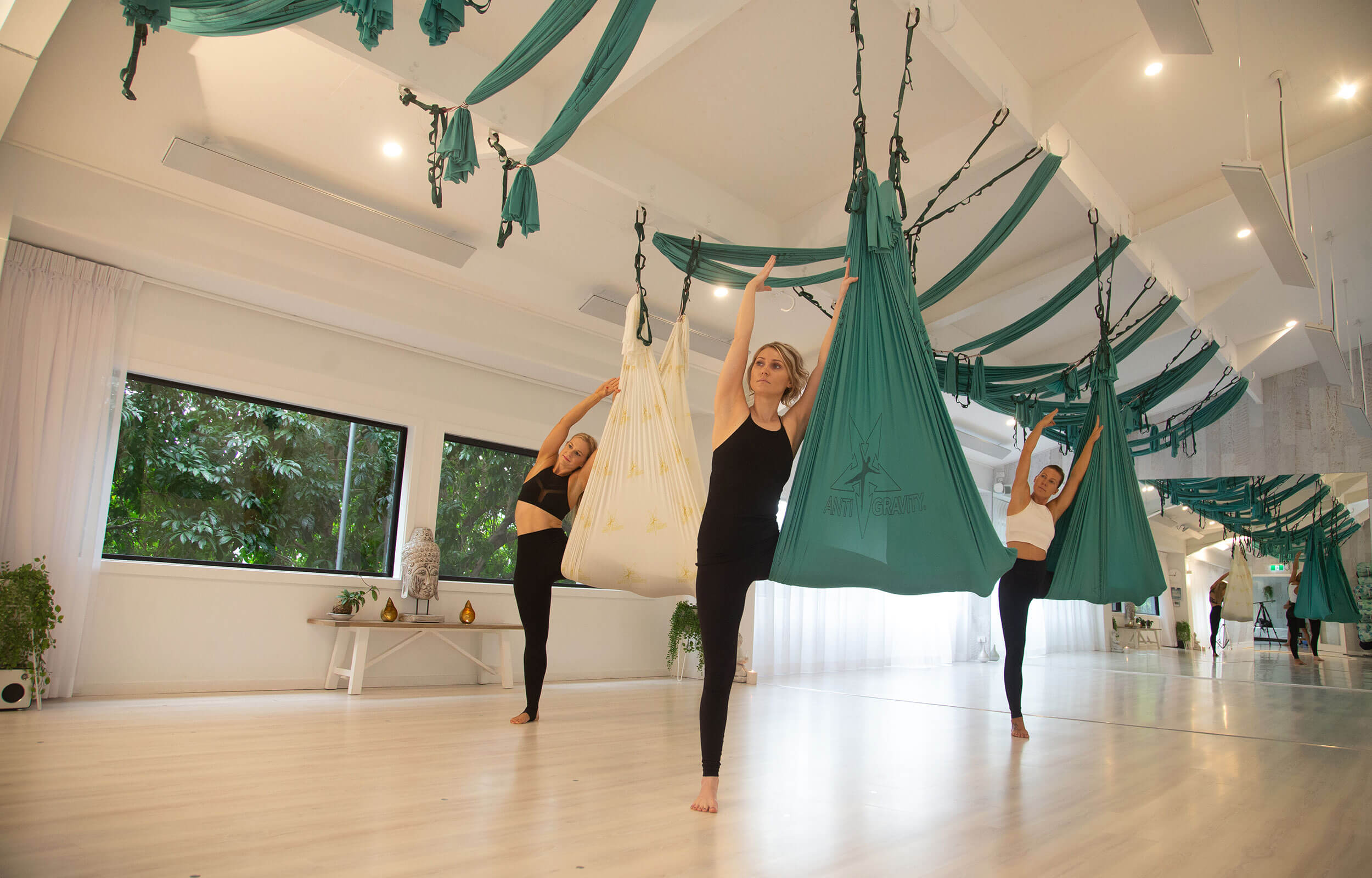 Aerial private group events
Make your next social event truly unique with our Private Aerial Group Bookings – ideal for hens, birthdays, get-togethers and corporate events. Choose from a fun class with flips and inversions or something more relaxing like Aerial Yoga or Aerial Restorative.
AntiGravity® Teacher Training
As Brisbane's only AntiGravity® Silver Studio we are licensed to host AntiGravity® Teacher Training. If you're looking to learn to teach Aerial Yoga or just delve deeper for your own practice, look out for our next Fundamentals Teacher Training (next one Feb 27) and other specialty AntiGravity® Aerial Training Courses. Go to our events page for upcoming courses.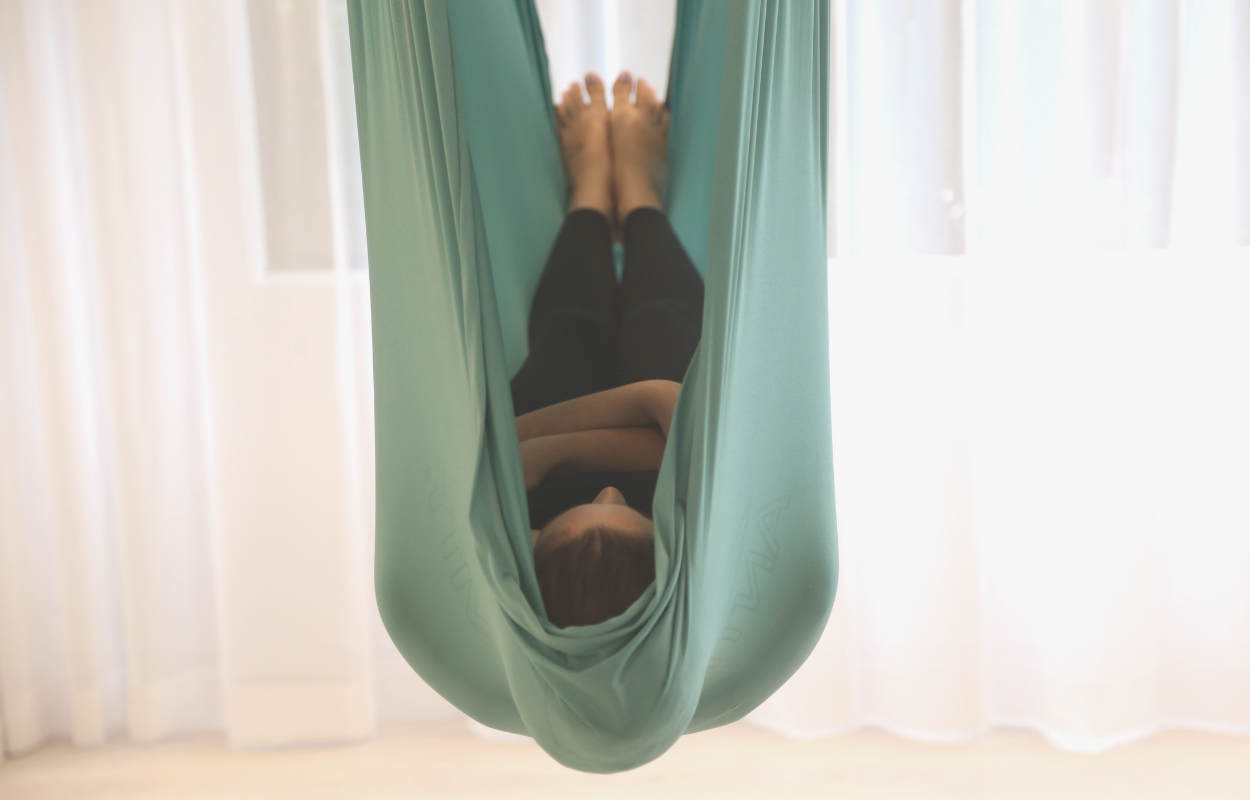 Aerial Therapeutics Training for Health Professionals
Expand your remedial, rehabilitation, mental health or trauma recovery frameworks with Aerial Therapeutics – a modality using an aerial hammock apparatus as a mind-body exercise that aligns with progressive exercise-based rehabilitation and trauma-informed frameworks.