What's the best way to learn aerial yoga for you?
---
Learn aerial Yoga at Bend & Fly, home of Brisbane's best beginner aerial courses and intro classes and private aerial sessions. Learning aerial yoga is for all shapes, sizes and skill levels. You won't need any kind of yoga or movement background or any great flexibility – in many ways aerial yoga is more accessible and easier to learn then floor yoga.
Choose from our great options to learn aerial yoga, from our Aerial Intro Course to Intro and All Level Classes or 1ON1 Sessions. Through our expert Aerial Yoga Instructors we will safely take you from complete novice to high flying aerial yogi in a short period of time!
Intro Course with Aerial Fundamentals 1
Aerial Fundamentals 1 is our popular 3 Week Beginners Intro Course taking you from novice to high flyer – starting every 3 weeks on Sunday mornings. It includes 3 bonus classes to use from the start of the course until one week after the course.
Why People Choose the Intro Course:
✔️ Can be easier to learn in this format as it's taught in progression by the same teacher
✔️ Comfort knowing all participants are beginners
✔️ Great social activity with relaxed Sunday vibes
✔️ The 3 bonus classes fast-track your new skills
Costs:
Intro offer of $99 which includes 3 bonus classes (6 in total); finishing certificate & $50 voucher towards next pass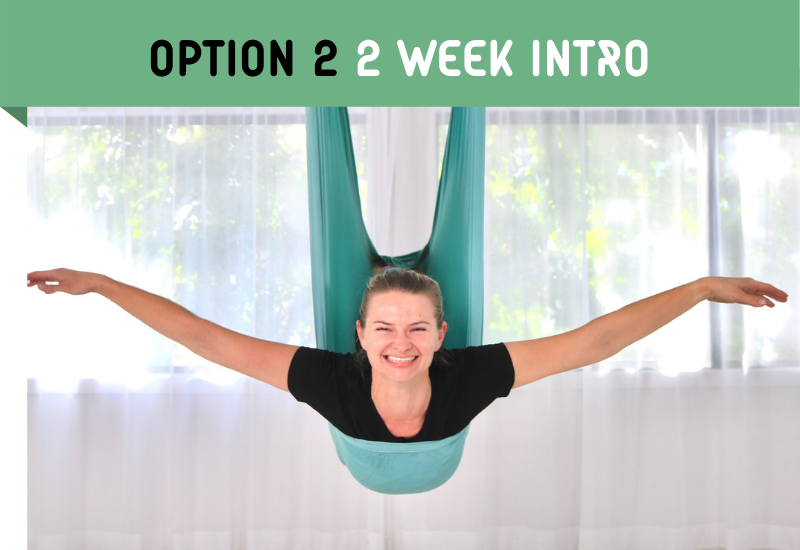 Intro Level Classes with 2 Week Intro Pass
Learn aerial yoga via our 2 week intro pass – starting with an Aerial Intro Class (Saturday morning) or an aerial class marked 'ALL LEVELS' and experience unlimited aerial and yoga classes within your 2 weeks.
Why People Choose the 2 Week Intro:
✔️ Great value to taste all aerial & yoga classes
✔️ If you pick new things up pretty quick & will be comfortable in open classes
✔️ Great option to challenge yourself
✔️ Option to go at your own pace with plenty of beginner friendly classes
Costs:
Intro offer of $55 which includes unlimited classes & up to $50 voucher towards next pass
Personalised Sessions with 1ON1 & Small Group Intro
Private 1ON1 and small group aerial yoga sessions are the most comfortable and effective way to learn aerial yoga for those that either want to start in a small group of friends or those who have injury history or who feel too self-conscious to start in a group class. You can go at your own pace with the guidance of our expert instructors.
Why People Choose Personal Sessions:
✔️ Sessions are personalised to your needs / injury history
✔️ Great to learn with 1 or 2 friends
✔️ You like to go at your own pace
✔️ Fast-tracks learning
Costs:
3 Session Intro Offer starting at $270
Flip Your Fitness with Aerial Yoga
Other Ways to Experience Aerial Yoga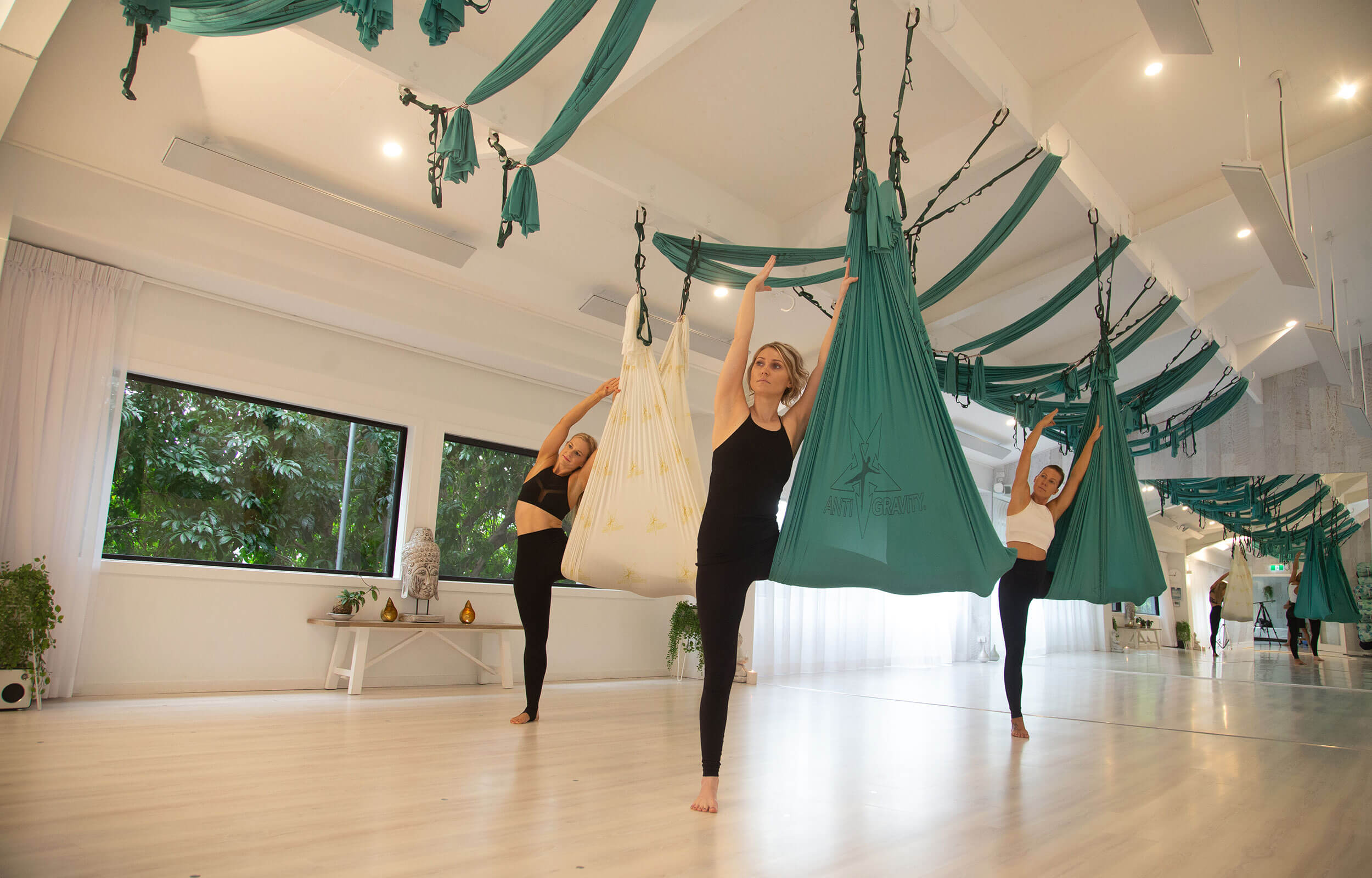 Aerial private group events
Make your next social event truly unique with our Private Aerial Group Bookings – ideal for hens, birthdays, get-togethers and corporate events. Choose from a fun class with flips and inversions or something more relaxing like Aerial Yoga or Aerial Restorative.
Learn Aerial Yoga at Home
Learn Aerial Yoga at home online through our online personal sessions (via zoom) or our live and on-demand aerial yoga platform. Need help setting up a hammock and rigging at home? – We can guide you through the steps for home aerial set-up!
Aerial Fundamentals 2 Course
Fundamentals 2 Course is the next step in your aerial progression after completing either Fundamentals 1 or your first set of aerial yoga classes (Check out the below link for more info)
Fundamentals 2 Special Intro Offer: $99 Includes Bonus 3 Classes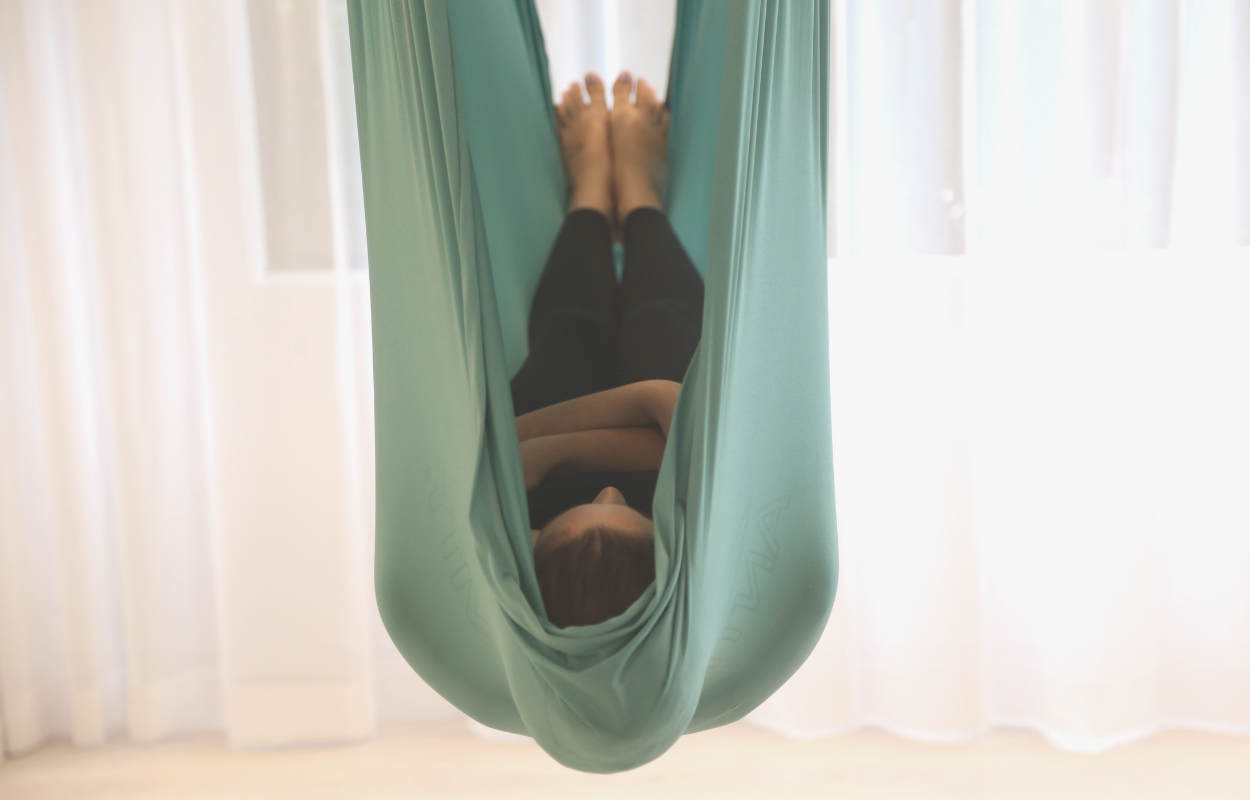 Aerial Therapeutics Training for Health Professionals
Expand your remedial, rehabilitation, mental health or trauma recovery frameworks with Aerial Therapeutics – a modality using an aerial hammock apparatus as a mind-body exercise that aligns with progressive exercise-based rehabilitation and trauma-informed frameworks.
Why is Bend + Fly Rated as Brisbane's Leading Aerial Yoga Studio?
---
Bend + Fly is regularly regarded by clients as Brisbane's leading aerial yoga studio. Here's some reasons why people love Aerial Yoga at Bend + Fly:
✔️ Leading instructors all expertly trained Australia's most qualified Aerial Yoga Master Trainer – Renae Stevens
✔️ Authentic aerial yoga experience in a beautifully appointed studio nestled in the trees
✔️ A welcoming culture where you can be free to express yourself
✔️ Dedication to safety and cleanliness
✔️ Brisbane's only Silver AntiGravity® Studio (AntiGravity® is the world's leading system of Aerial Yoga)
The Benefits of Aerial Yoga
---
There is something magical about the joy and playfulness of flight. Aerial Yoga is certainly a unique and fun activity to do with friends, but it also has deep health benefits that keeps bringing back regular aerial yogis for more. Some of the health benefits include:
✔️ One of the only activities with zero compression inversions – great for spine and neck health
✔️ Many of the poses are weightless, meaning a great low impact exercise
✔️ Like pilates, aerial yoga requires the use of deep core muscles
✔️ The use of gravity will help improve flexibility
✔️ Makes fitness fun again and brings a little joy into our lives
✔️ Great therapeutic tool known to regulate the nervous system