NDIS Rebates for Aerial Yoga & Hammocks
---
Aerial Yoga is the Ultimate Calming and Sensory Modality
Aerial Yoga is a beautiful modality to integrate into treatment or intervention options for NDIS clients. As the ultimate therapeutic modality, Aerial Yoga sessions or hammocks/rigs can even be claimed through the NDIS.
Some of the benefits of Aerial Yoga and Hammocks for NDIS clients include:
✔️ Reduce anxiety through swinging, inverting and being cradled
✔️ Improves gross and fine motor skills
✔️ Improves attention and focus through following cues
✔️ Tactile / sensory input provides comfort and healing
✔️ Proprioception and motor planning
✔️ Provides confidence
✔️ It's a fun fitness and a great energy release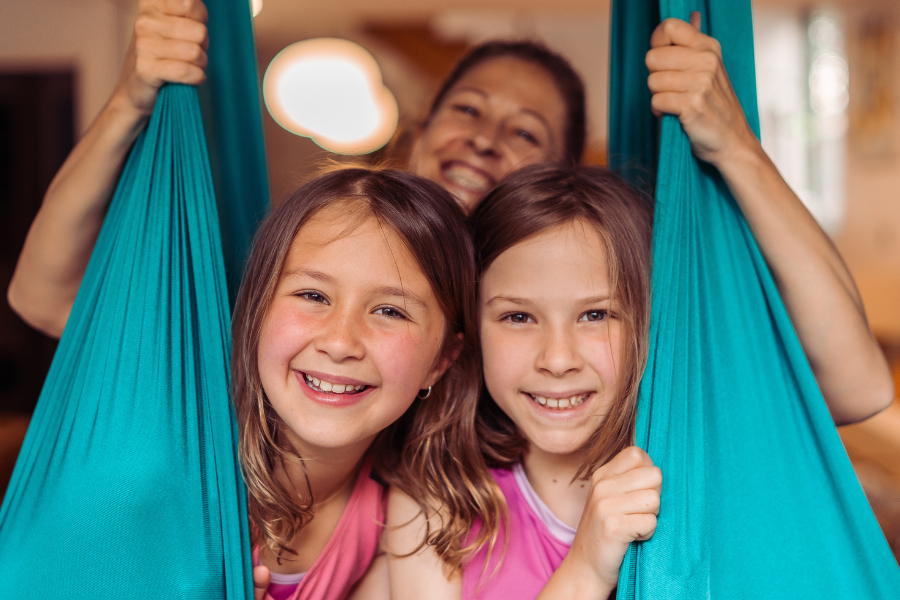 Aerial Hammocks & Rigs on NDIS
Setting up an aerial hammock and or aerial rig at home can have wonderful benefits for the whole family – kids and adults alike. It can be used as a sensory swing to calm anxious kids, but also as a wonderful decompressive, restorative and fitness apparatus for all ages. Depending on your type of funding, most often hammocks and rigs can be approved as part of your NDIS consumables.
Aerial Private Sessions on NDIS
Bend + Fly has available Aerial Yoga Private 1ON1 Sessions for NDIS clients. We use aerial yoga therapeutics and or play-based sessions, for motor skill development, healing and emotional regulation. Sessions can assist with the treatment of:
✔️ Anxiety
✔️ Mental Health Concerns
✔️ Injury (brain and physical)
✔️ Autism Spectrum
✔️ ADHD
✔️ And many other disabilities and disorders
How to Claim Through the NDIS?
---
We always recommend speaking first to your NDIS Support Coordinator regards the suitability of aerial yoga sessions or equipment and any potential rebates.
How to claim will depend if you are self-managed or not. Self Managed clients generally pay for the service or product themselves and then get reinbursed by NDIS, whilst NDIS-managed clients will ask for a quote prior to engagement or purchase.