Industry Leading Aerial Yoga Teacher Training Courses
Excellence in Aerial Hammock Education with CreativeBodyFlow's Renae Stevens & Bend + Fly
STEP 1. Take your first steps to becoming an aerial yoga hammock instructor and learn the most important basics of movement and aerial hammock technique with Aerial Essentials 50HR Course.
STEP 2. Then deepen your knowledge and understanding to become a sought after expert in Aerial Yoga, and explore Aerial Dance, applied biomechanics & lead advanced technique classes with Aerial Advanced 50HR Course.
STEP 3. Unlock the Aerial Hammock's Therapeutic potential and learn how to harness and apply the key benefits of the aerial hammock for special populations. Aerial Therapeutics 100HR Course.
See why Graduates Love this Training...
---
50HR AERIAL ESSENTIALS COURSE
Aerial Essentials is a 50hr instructor training that is comprised of preliminary 10hr online theoretical training followed by a four-day intensive practical training (delivered live and live-streamed).
This course is designed to equip instructors with comprehensive instructional, theoretical and practical knowledge to be competent and confident in delivering effective group aerial classes.
✔️ Discover the history and evolution of the aerial technique
✔️ Implement the principles of efficient movement in aerial yoga hammock technique
✔️ Understand professional instructor responsibilities and ethics
✔️ Deliver safe facilitation in over 60 aerial hammock exercises
✔️ Apply a progressive framework for aerial exercise instruction
Next course starts May 26, 2022.
50HR ADVANCED AERIAL YOGA TEACHING
The Advanced Aerial Instructor Training provides you with 10hrs of online theory and your choice of 40hrs of live or live-streamed practical training to assist you in becoming a diverse Aerial Instructor able to cater for all levels, and bring creativity to life in the air!
✔️Explore applied biomechanics and training principles
✔️Lead advanced aerial conditioning technique classes with over 60 new complex aerial exercise variations
✔️Program safe multi-level group classes that will bring joy and satisfaction to all participants
✔️Learn how you can add musicality and Aerial Dance choreography to elevate the creative experience
✔️Learn the keys to building a personal brand and making your Aerial Yoga business a great success!
Next course starts August 19, 2022.
100HR AERIAL THERAPEUTICS
Unlock the Aerial Hammock's therapeutic potential with Aerial Therapeutics. This course dedicates 100hrs to focus on developing the practical skills and theoretical understanding that will enable you to effectively collaborate with other health professionals to assist in positive outcomes for individuals with specific needs in the areas of women's health, injury prevention, and rehabilitation, mental health and trauma recovery and working with children.
Next course starts August 29, 2022.
Available In Person or 100% Virtual
About Renae Stevens / CreativeBodyFlow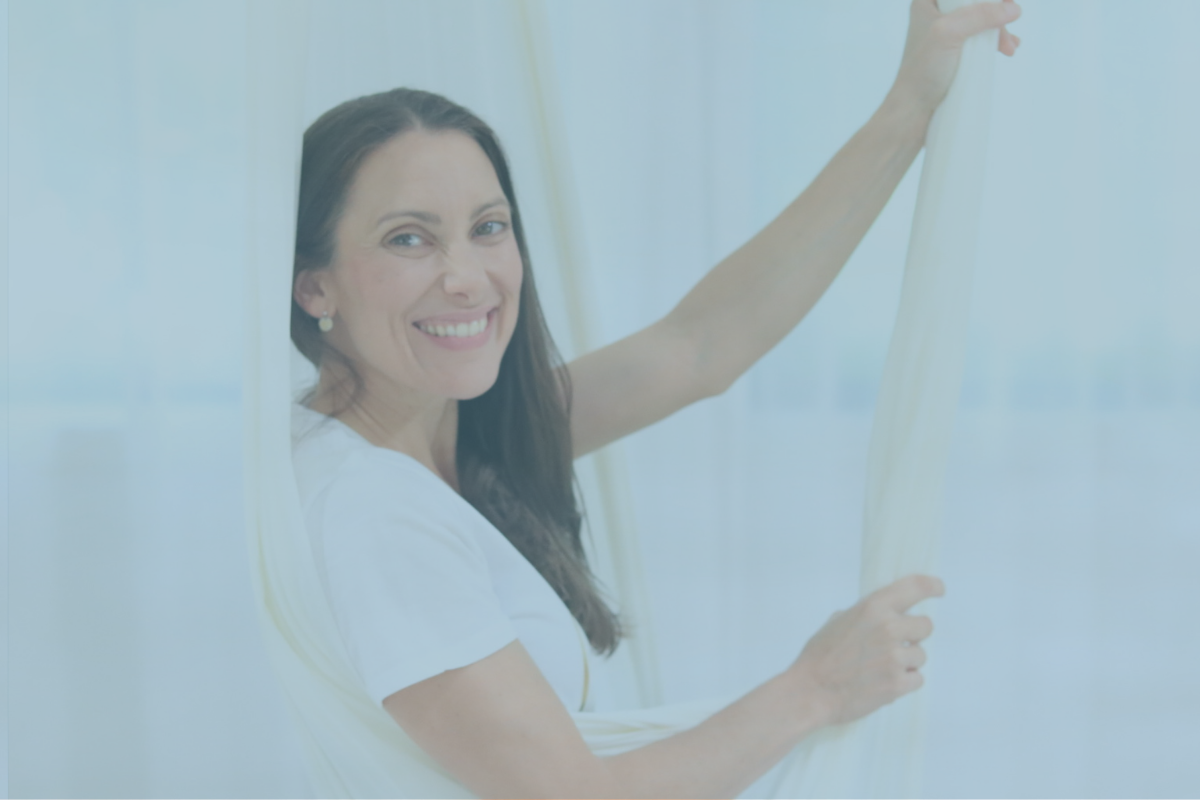 About Course Presenter - Renae Stevens
Renae Stevens, founder of CreativeBodyFlow, has been a pioneer in bringing aerial yoga hammock education to Australia and New Zealand. This journey in aerial yoga education started in 2010 when Renae travelled to NYC to be trained by the creator of the aerial hammock, Christopher Harrison. In 2011, she was appointed a principal educator for AntiGravity® and became instrumental in bringing the modality to Australia and NZ.
Renae holds a master's degree in Mental Health and is a registered Art Therapist experienced in trauma recovery. Renae is recognised by Yoga Australia as a Senior Yoga Teacher with 20 years of teaching experience. Her foundational years of study involved completing a full-time 3 year training specialised in Yoga Therapy at the Yoga Arts Academy in Melbourne, Circus Arts training in Beijing and Physiotherapy foundation studies in anatomy and physiology at the University of Queensland.
Renae has continued to diversify her skills in the movement healing arts over the last decade and is also certified as an AntiGravity® Master Instructor, Polestar Pilates Studio Rehab instructor and Franklin Method Movement Educator.
BOOK A ZOOM SESSION WITH RENAE