Differences in our Teacher Training vs Other Aerial Yoga Trainings
5 KEY DIFFERENCES IN OUR TRAINING VS OTHER TRAININGS
---
By Lead Aerial Yoga Teacher Trainer, Renae Stevens

The CreativeBodyFlow Aerial Yoga Teacher Training System is a ground-breaking approach to aerial training that goes deeper into the biomechanical, physiological and psychological aspects of aerial movement, compared to other training courses. Today we explore these key differences and why it will ultimately make you a better Teacher or Practitioner.
1.CreativeBodyFlow is not genre based…providing a deeper theoretical understanding
In other Aerial Hammock training courses they can focus on teaching a specific style or genre, and teach you a set of exercises that fit into the genre. However this may result in a lack of education in how to adapt and progress exercises safely and effectively.
CreativeBodyFlow Aerial Yoga Teacher Training differs in that it aims to provide the instructor or practitioner with a deeper theoretical understanding of the biomechanical, physiological and psychological benefits and precautions for aerial applications. This knowledge means that you're not limited to delivering a particular set style and instead can use and informed reasoning and program design approach to better serve your clients needs.
2. Our Training Qualifies You as an Aerial Yoga Therapist – Unlocking Potential NDIS Income
If completing the 150HR Aerial Yoga Therapeutics Postgraduate, it is the only training in Australia that will qualify you as Aerial Yoga Therapist, allowing you to use the hammock for remedial and therapeutic services – unlocking new business opportunities and access to Government rebate schemes such as the NDIS (self-managed clients) and other cross modality/practitioner referral programs.
3. Our Training offers the option to be completed 100% Online (if desired)
With the present limitations in worldwide and even domestic travel, our training is one of the only courses that provides the opportunity to be undertaken anywhere in the world – completely online through virtual live-streaming (all sessions recorded as well) and on-demand self-paced study options.
4. Our Training Helps Your Get Your Aerial Venture Off The Ground (ps. This is not a pun)
When completing some other aerial hammock training, there is often no education on how to set-up your studio or home rigging – making it difficult to know whether setting up your new venture is even feasible. When doing this training and in particular when completing the 150HR Aerial Yoga Therapeutics Postgraduate you will be provided with equipment set-up resources on sourcing, installing, rigging and insurance.
5.Our Training Provides an Industry-Leading Business Module
The CreativeBodyFlow Aerial Yoga Training is the only hammock training in Australia that has a comprehensive sales and marketing business module – giving you the tools to successfully launch your services and nurture business opportunities (Available in the 150HR Postgraduate)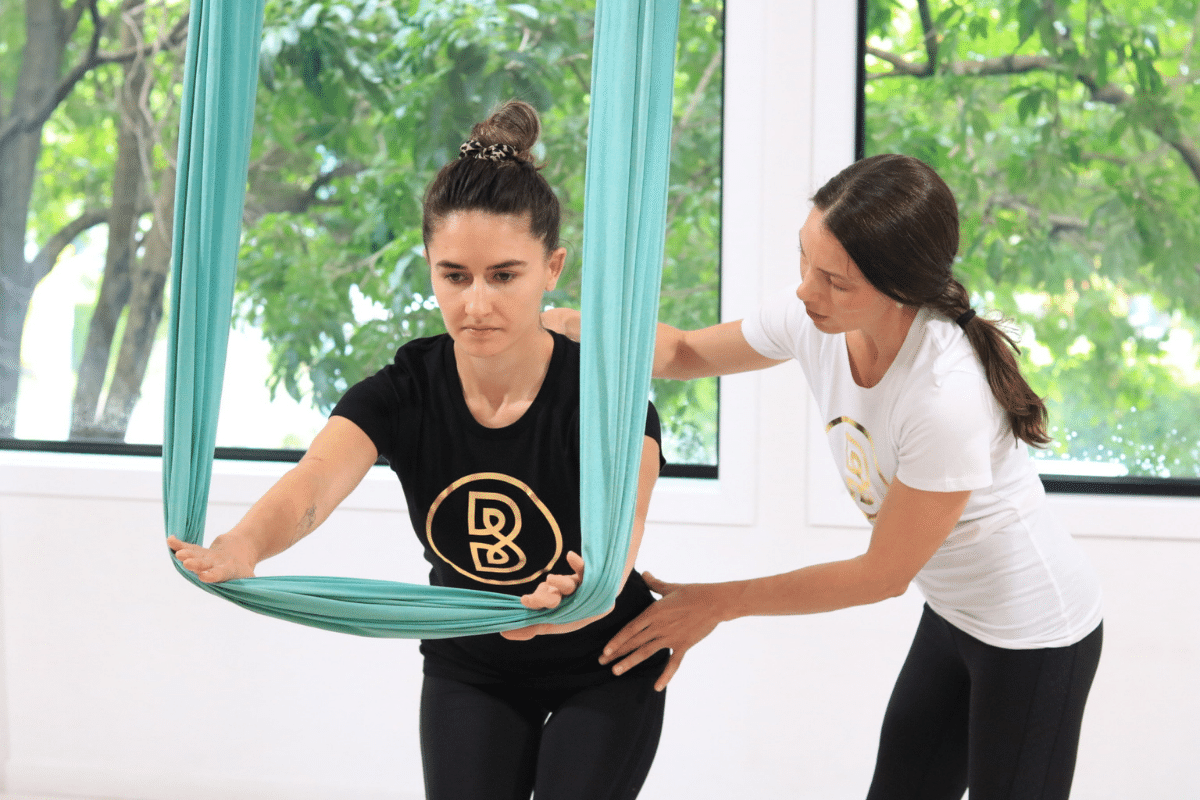 How will our Training Help You Become a better instructor or practitioner?
The CreativeBodyFlow education model will inform you as the instructor to be more sensitive to the needs of the people that will walk through your door. It will give you a way to offer an inclusive service with awareness of how to continually monitor the psychological and physical safety of your clients and assist them in their goals toward health and well-being.
With up 200 hours of experiential and theoretical education it will set you up to feel confident and competent in your ability to deliver safe progressive and creative experiences in the Hammock for your clients. This training will provide clarity in the appropriate applications and use of inversions, traction, gravity assisted or gravity resisted exercises.
WATCH: Why is the CreativeBodyFlow Approach Important Today?
---
Statistics show More then 50% of People Suffer from physical, physiological or mental stress overload
The well-being focus of the CreativeBodyFlow aerial yoga teacher training is more important now than ever before. Statistics suggest that more than half of the clients you will work with will in their life-time suffer from the effects of physical, physiological or mental stress overload. This may present either in the form of a persistent pain issue, or in challenges with mental health, such as depression and anxiety. For you to safely and effectively support your clients toward optimal health it requires you to adopt an informed and inclusive delivery style that can be used in both group settings and individualised sessions.
Most Fitness Genres Only Cater to Stress & Pain Free Clients
In most of the popular fitness genres today, the participant needs to already be a healthy weight, stress free and with no chronic conditions to be able to attend without being at risk of further injury or energetic depletion. When we look at the Australian population, around half of Australians live with a chronic pain condition and as many as 50% of these people also experience depression or anxiety. Many of these people are back-pain sufferers or have other chronic musculoskeletal conditions that make most fitness classes inaccessible.
Aerial Yoga Therapeutics offers a non-pharmaceutical, gentle & stress reducing alternative
Aerial Yoga and Aerial Yoga Therapeutics offers an alternative providing a modality that can decompress the body and de-stress the mind. Although Aerial Yoga Therapeutics is not magic in its ability to cure all, it can be incredibly empowering as a preliminary first step toward health that is non-pharmaceutical, financially accessible, gentle, stress reducing and decompressive.
About Renae Stevens & Aerial Yoga Teacher Training
---
Renae Stevens, founder of CreativeBodyFlow, has been a pioneer in bringing aerial yoga hammock education to Australia and New Zealand. Over the last 10 years Renae has had the opportunity to work with clients in the hammock in both clinical settings, fitness centres and yoga studios, and found there are outstandingly positive outcomes when the knowledge from mental health, physical rehabilitation and fitness are integrated.
Renae is lead Teacher Trainer of CreativeBodyFlow's Aerial Yoga Teacher Training, with courses coming soon both virtually (live-streamed) and live at Bend + Fly.
Ask us a Question about Aerial Yoga for Core Conditioning