Studio Quality Aerial Yoga Hammocks
---
Professional Studio-Quality One-Way Stretch Hammocks as Used at Bend + Fly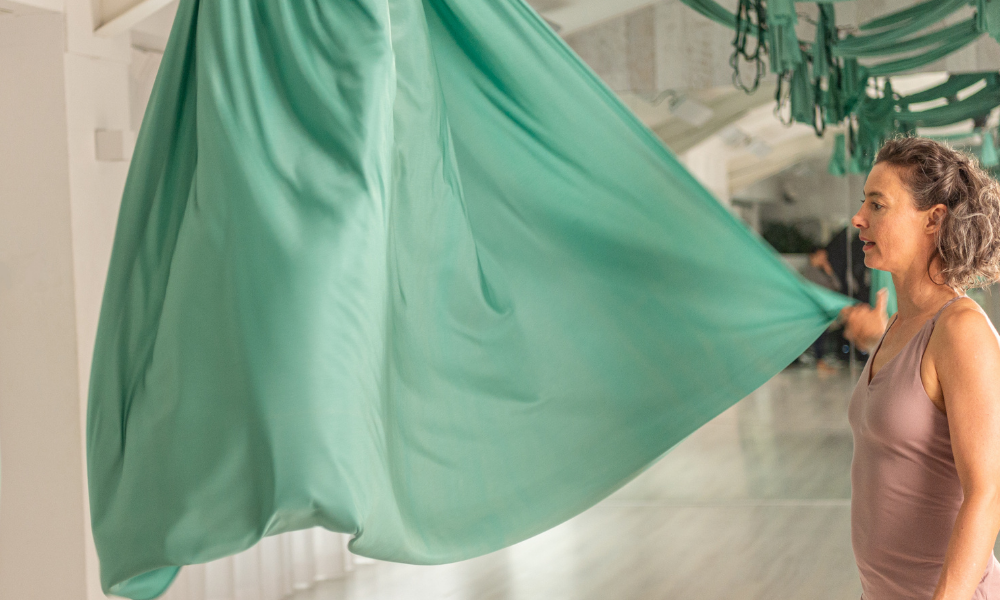 40 Denier Tricot Nylon Hammocks are the hammocks used at Bend + Fly and are superior in quality to other hammocks, rated and tested for dynamic loading to over 300KG. These hammocks are made from the best quality aerial material that is unique in the way it provides one-way stretch (sideways stretch but not downwards). This stretchability gives this hammock a more natural feel to the contours and movement of your body – something inferior hammocks cannot achieve (most are too stretchy and cannot invert with confidence).
This hammock is the most effective apparatus to practice aerial yoga.
Choose from 9 Beautiful Colours: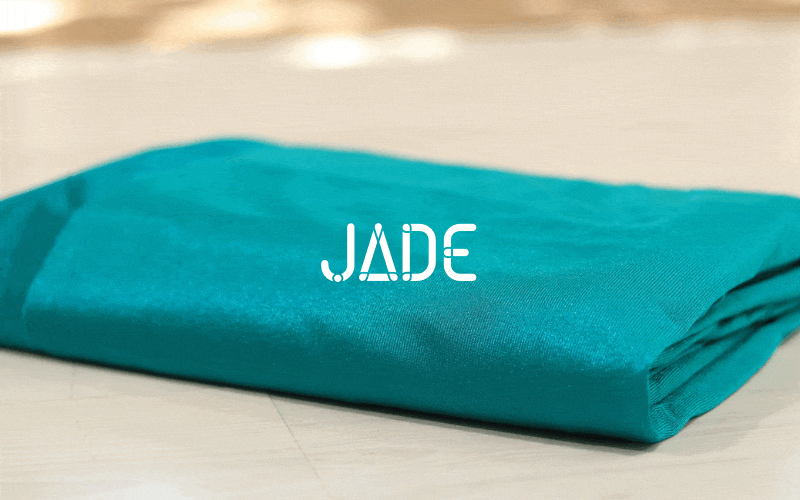 Buy a Hammock or Hammock Kit – Free Delivery
If installing a hammock for the first time, you will more than likely need a hammock kit – which contains the hammock with the rigging accessories (less the rigging plates) to secure and hang the hammock.
In order to rig the hamnmock and accessories to the ceiling, there are number of different rigging options including rigging plates (which we sell), which are mainly suitable for exposed beams. Check out all the rigging options here.
Go to Rigging Plates & Install Tips
Go to How to Tie Off Hammock
Buy Hammock Kit Gift Box - $299
Comes with 2 x Daisy Chains / 2 x Carabiners / 2 Choke Loops (slings) / 2 Weeks Free On-Demand Aerial Classes / Aerial Socks / Tote Bag
Differences in Hammock Quality
---
One-Way Stretch Hammock ✅
A studio quality aerial hammock is normally one-way stretch made of nylon tricot material (as used and sold by Bend + Fly) – it has a beautiful stretchability sidewards, but little stretch downwards – meaning you can invert with confidence and not have to raise the hammock too high – a good feature especially if ceiling height is an issue.
Two-Way Stretch Hammocks ❌
Most aerial hammocks sold online (including the Aerials Australia and Crocox hammocks – which is pictured) fit into the two-way stretch category – which means they stretch sidewards and stretch downwards. The downwards stretch is mainly beneficial for aerial arts which feature drops, but they also can be used for aerial yoga, but you'll need to raise the hammock higher to factor in inversions. Experienced Aerial Yogis can find these type of hammocks a little bouncy for waist high aerial yoga.
High Stretch or No Stretch ❌
Avoid hammocks made of cheaper parachute style material that have no stretch both ways – making it not comfortable and pliable for aerial yoga. Also avoid polyester hammocks and even nylon hammocks labelled high stretch – these are too bouncy and not suitable for an aerial yoga hammock, which sits lower than an aerial arts silk – normally at waist high.
Here's an Example of Stretchiness Between our Hammock and a Cheaper E-Bay Hammock
How to Install Rigging for an Aerial Hammock
---
Aerial Rigging is possible in any Environment
Through the use of a ceiling mounted rigging, a portable rig or outdoor structure – installing a home aerial set-up is possible in any living situation.
Your choice of rigging will depend on living arrangements and financial considerations.
Here's some ways you can rig mounting plates or daisy chains to a ceiling
Buy Steel Rigging Plates $35ea
---
We now sell machined steel and powder-coated 5mm aerial yoga rigging plates that can be mounted to a timber beam as pictured below.
Buy Rigging plate $70 pair + $12.50 Delivery
How to Install the Rigging Plate and Connect Hammock Accessories
Use 12mm (M12) thick steel bolts with washer and nut (stainless steel is better) to attache plate to timber beam. The length of the bolt will depend on the thickness of the beam. The picture above shows how we have them installed at Bend + Fly – with a daisy chain self-locking around the apparatus attachment hole. Use a 40mm length of rubber hose (cut down the middle) and bend to place on top of the apparatus attachment hole to protect the daisy chain from friction and possible damage.
To hang the hammock, attach the carabiner to both the daisy chain and to the choke loop (which chokes the hammock – scroll down to see how to choke a hammock)
How to Tie or 'Choke' a Hammock
---
Choking the Hammock Vs Tying a Knot
We recommend using the 'choke' method (pictured above on left) using rock climbing slings to tie off the hammock and enable it to attach to the carabiners and daisy chains. Choking a hammock provides more stability and makes it easier to adjust and to take on and off the carabiner. You can also take the slings on and off easily to wash.
Tying the hammock off by knotting (pictured above on right) is possible but we don't recommend it because after applying weight into the hammock it can lock the knot so tight it can be impossible to untie. Plus this method requires more hammock length and makes getting accessories on and off more difficult.
How to Prepare Your Hammock to be Hung
How Many times should you wrap the sling around to choke the hammock?
For commercial use you should wrap the sling (choke loop) 3 times around the hammock. The 3rd wrap will be difficult so use an s-hook to pull the 3rd wrap around. For personal use wrapping the sling only twice around is perfectly safe as it is a self-locking mechanism under weight. It is still important to ensure you have a long enough tail (fabric that hangs at the end after the choke) to avoid slippage.