Experience the Power of Essential Oils
Join the B+F doTERRA Team
---
One of the key elements of Bend & Fly is that it is a multi-sensory experience. We recognise the magic of essential oils how they have the power to elevate mood and create special energy within a space while creating special therapeutic and healing benefits. So sourcing the purest, therapeutic grade and ethically-sourced essential oils is important to us (as it should be for everyone) and that's why we have chosen doTERRA essential oil products to diffuse, clean with and recommend through Bend + Fly.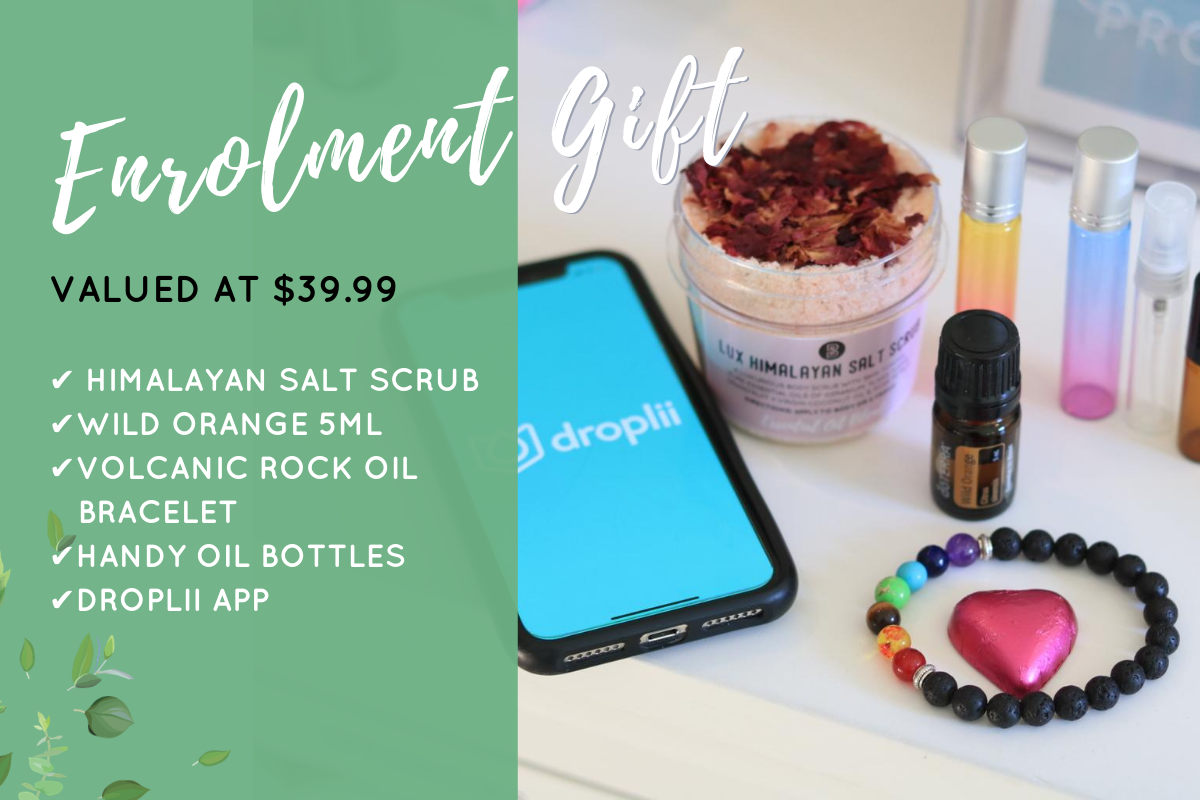 Get Wholesale Pricing + Bonuses
Join doTERRA through Bend + Fly to get these great benefits:
✔️ Wholesale pricing (minimum 25% discount of your oils)
✔️ A beautiful complimentary enrolment gift pack valued at $39.99 (pictured above) including the informative Droplii App
✔️ No monthly order required
✔️ Option to receive 10 – 30% back on every purchase made in FREE product
✔️ Eligibility to receive doTERRA's free products of the month on every order you place
✔️ Option to start sharing oils with others and build your own wellness business.
Enrolment Kits + Wholesale Product Guide
Selecting a doTERRA enrolment kit is smart way to get started with essential oils as it includes the year's enrolment (valued at $35) and you will also receive the biggest discount on your oils – making it the most affordable way to purchase start up oils.
Follow these simple steps to join doTERRA
---
1. Click the below JOIN DOTERRA NOW BUTTON to set up your doTERRA account
2. Select language and country of residence
3. Select local order (OTG)
4. Join as a Wellness Advocate (this will mean that not only you will get to buy the oils at Wholesale prices (minimum 25% off) but it also means if you choose to sign up any other people you will receive the benefit of commissions, free oils, credits etc.
5. Complete application with your personal details & set up a password for your virtual office – where you will login in to purchase oils in future, track orders, and sign up anyone
6. SELECT AN ENROLMENT OPTION:
a) Select an Enrolment kit – we recommend starting with an enrolment kit as you will not only waive the enrolment fee, but you will receive the biggest discount on your oils and so it's the most affordable way to purchase some start up oils (see the most popular enrolment kits below) By selecting an enrolment kit you earn back a higher percentage in reward points that can be used to buy free products!
OR
b) Select an Enrolment Fee for $35 – If you prefer to just purchase single oils when you need them, this option will give you access to doTERRA wholesale membership for 12 months
7. Select continue and you will be directed to enter your payment details. Complete this and submit your order.
8. Collect your complimentary B+F enrolment gift and free Droplii app download after receiving your welcome email (if interstate – we will mail it out)