Aerial Yoga Therapeutics 20HR Foundation Course
---
with Renae Stevens
This course is designed for professionals in the fields of physical health, mental health and movement education seeking to harness the therapeutic power of the aerial hammock apparatus into their existing scope of practice. This 20hr course explores the neurobiological understandings of trauma and pain, followed by an introduction to the therapeutic framework underpinning the complete 150hr Applied Aerial Yoga Therapeutics Postgraduate Program. Over the duration of the course, participants will have the opportunity to gain an experiential perspective on the unique healing qualities of the aerial hammock when applied within a multi-modal approach.
Foundation Course Investment: $390
BOOK NZ COURSE (JAN 2020)
BOOK BRISBANE COURSE (FEB 2020)
BOOK PERTH COURSE (MARCH 2020)
BOOK MELBOURNE COURSE (APRIL 2020)
What is Aerial Yoga Therapeutics?
Applied Aerial Yoga Therapeutics 150HR Post-Graduate Program
The 20HR Foundation Course is a pre-requisite to the full 150hr PostGraduate Program, which requires participants to complete 3 educational components:
20hr Foundation Course
Delivered in the above locations between Jan – May 2020
20 Week Online Theoretical Modules
Commencing May 1st, 2020
10 Day Intensive Practical Modules
Commencing Sept 18 -27, 2020
Bend&Fly Studio, Brisbane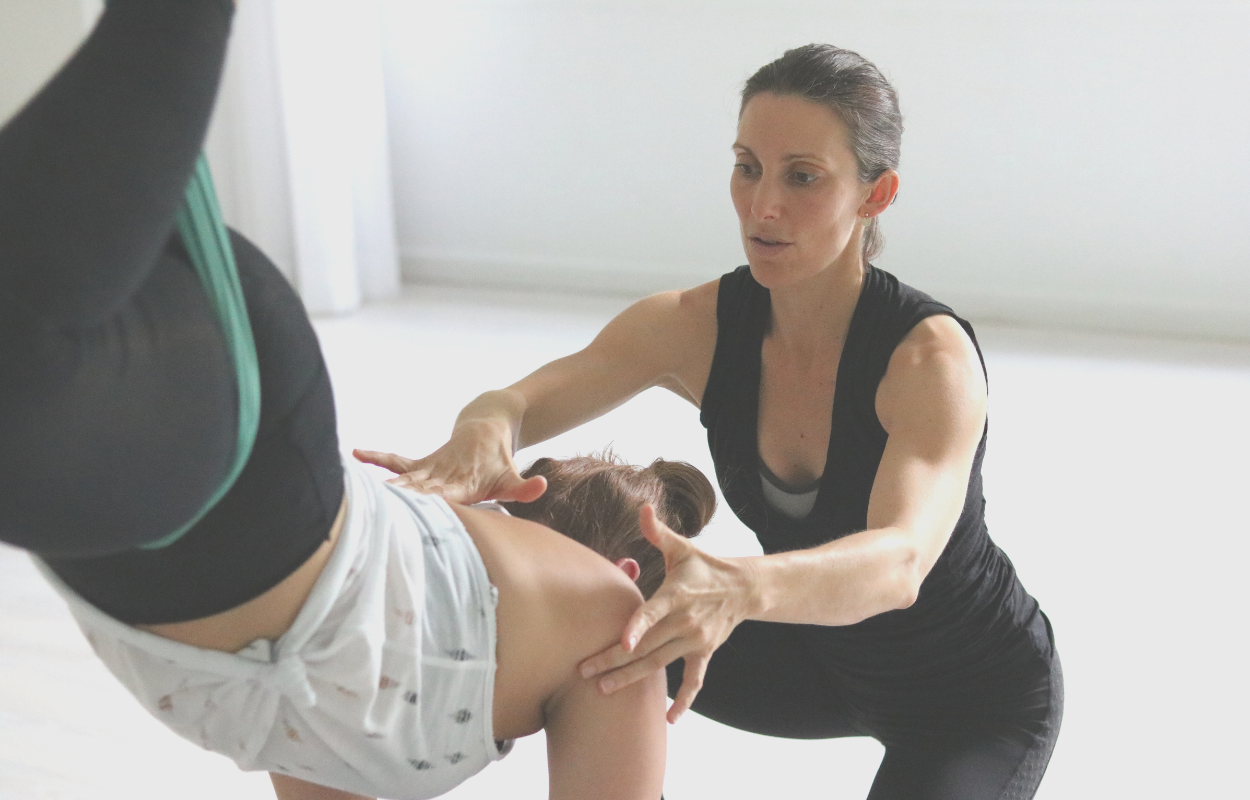 What is Aerial Yoga Therapeutics?
Aerial Yoga Therapeutics utilises the aerial hammock apparatus to facilitate therapeutic movement that aligns with progressive exercise-based rehabilitation and trauma-informed practice. The aerial hammock is a sensory medium that enhances neural integration and offers the restorative benefits of zero-compression inversions, incorporating joint and viscera decompression while developing 3-dimensional spatial awareness.
It holds a unique ability to induce the relaxation response by releasing respiratory constriction and providing somatic experiences of being supported, rocked and 'cradled' that rebuild a sense of trust in one's body, relationship and environment. The therapeutic benefits of this body-orientated intervention are quickly being adapted into innovative clinical exercise based physiotherapy, rehabilitation practices and mental health settings to address a range of conditions and enhance recovery, empowerment and well-being.
Course Investment
Foundation Course: $390
Post-Graduate + Foundation Course Upfront: $3990
Secure your spot – $500 non-refundable deposit
Or Payment plan $4350 – payable in 4 instalments (by June 30)
SAVE $360 when booking both FOUNDATION & POST-GRADUATE Programs
What will I learn in the Foundation Course?
This 20 Hour Course will provide foundational knowledge in theoretical and experiential formats of these key areas:
✔️ The CreativeBodyFlow approach to Aerial Yoga Therapeutics which integrates the psychobiological processes of creativity, sensory integration and flow state experiences
✔️ The therapeutic qualities and attributes of the aerial hammock including those that may influence the participant's positive experience and engagement in treatment
✔️ Steps to trauma recovery and the role of the body
✔️ Principles of yoga therapy including how to elicit the relaxation response and promote parasympathetic functioning
✔️ Neurobiological understanding of trauma and the relationship to chronic pain
✔️ Frameworks for understanding stages of physical rehabilitation, including the contributing mental health factors in healing
*This foundational workshop is a prerequisite to further study in the complete 150hr Aerial Therapeutics Post Graduate Program launching in 2020.
Why use an Aerial apparatus in a therapeutic setting?
Aerial Therapeutics is a single-apparatus mind-body exercise that aligns with progressive exercise-based rehabilitation and trauma-informed frameworks.
The aerial hammock is a medium for sensory integration that offers restorative benefits of zero-compression inversions and develops 3-dimensional spatial awareness, co-ordination and acuity. It is effective in inducing the relaxation response by releasing respiratory constriction and providing experiences of being supported and 'cradled'. Aerial Therapeutic interventions are currently being adapted into clinical physiotherapy practice in Australia and mental health services and are showing promising results.
Who is this training for?
✔️ Physical health, mental health and occupational health professionals
✔️ Qualified movement instructors (fitness/ aerial yoga/ yoga/ pilates instructors)
See how the Aerial Hammock can relieve chronic pain
Clinical Testimonial - Audrey Ng
"Through my first-hand experience in my clinic, working with both rehabilitation and fitness clientele, I have seen the AntiGravity® technique used as a valuable tool in rehabilitation, exercise therapy and fitness… I love and am a firm believer in the application of the AntiGravity® technique in my own body and that of my clients."
Audrey Ng, Principal Physiotherapist Performance Pilates and Physiotherapy, Perth, WA
Clinical Testimonial - Dr Ann-Maree Barnes
"It became undeniable how much my patients could benefit from the modality in a therapeutic context. The supportive and adaptive nature of the apparatus has so many potential clinical applications and benefits not only in the rehabilitation setting but also chronic pain, mental health, PTSD, for de-conditioned patients and the elderly with respect to preventing falls by exercising the vestibular system and thus keeping them home and out of hospital or nursing homes for longer."
Dr Ann-Maree Barnes (BBiomedSc, MSc, BMBS, FANZCA)
South Australia
Clinical Testimonial - Simon Borg-Olivier
"In my experience the tractioning effect can be useful for the rehabilitation of a number of musculoskeletal problems, including but not limited to lower back problems, neck problems, shoulder problems and hip problems. In addition, the AntiGravity® technique gives the possibility to use gravity to change blood flows giving it the potential to treat a number of medical conditions. Based on my years of clinical experience, I strongly believe that physiotherapists could benefit greatly by learning how to use the AntiGravity® system."
Simon Borg-Olivier, Physiotherapist and Senior Yoga Instructor
The growth of Aerial Yoga Therapeutics
In 2010, Renae traveled to NYC to be trained by the creator of the aerial hammock, Christopher Harrison. In 2011, she was appointed a principal educator for AntiGravity® and became instrumental in bringing the modality to Australia and NZ and has since trained over 500 practitioners in this region. Renae's masters research conducted with the University of QLD in 2012 investigated the therapeutic benefits of the modality and inspired many innovative practitioners to explore the clinical capacity of the aerial hammock further in diverse areas such as trauma recovery, cancer recovery, rehabilitation, disability and developmental disorders. In 2015 Renae hosted the first Australian and NZ Aerial instructor conference aimed at bringing practitioners and their findings together to assist in the growing body of knowledge on Aerial Therapeutics.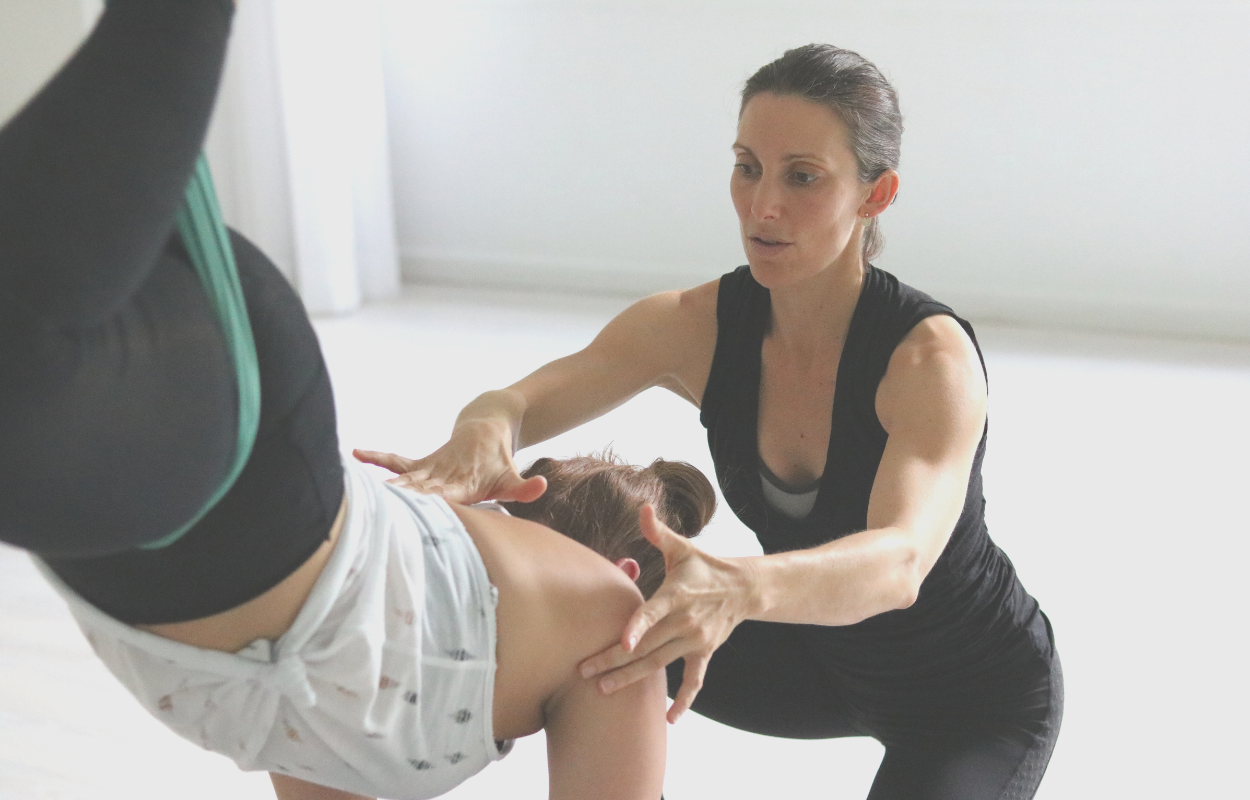 The CreativeBodyFlow approach to Aerial Yoga Therapeutics
Over the last 8 years of working with the aerial system, Renae developed a therapeutic approach termed CreativeBodyFlow (CBF) which combines creativity, mindful movement and sensory integration. This multimodal approach merges yogic and neurobiological understandings and fuses the clinical frameworks for both physical rehabilitation and trauma recovery from a mental health perspective.
FAQs
---
Who is this training for?
Physical health, mental health and occupational health professionals
Qualified movement instructors (for example intructors of fitness/ aerial yoga/ yoga/ pilates)
Do I need a prerequisite of other aerial trainings or movement experience?
This training is designed as a postgraduate program open to participants with existing qualifications as a physical health professional, including movement educators, or qualifications mental health. Prior experience with the aerial hammock apparatus is not required
Where, when and how will the 150HR Postgraduate Course be delivered?
The full 150hr PostGraduate training requires participants to complete 3 educational components:
*20hr Foundation Course delivered in these locations between Jan – May 2020:
New Zealand: 27 -28 Jan 2020, Float Fitness, Mt. Muanganui, NZ
Brisbane: 1-2 Feb 2020, Bend&Fly Studio, West End, Brisbane
Perth: 28-29th March 2020, Performance Pilates & Physiotherapy, Leederville, Perth.
Melbourne: 19 – 20th April 2020, Garden of Yoga, Melbourne
*20 week Online theoretical modules: Commencing May 1st, 2020
*10 Day intensive practical modules: Commencing Sept 18 -27, 2020
Bend&Fly Studio, Brisbane.
<a href="https://bendandfly.com.au/wp-content/uploads/2019/12/AYTPG-program-outline-2020.pdf" target="_blank" class="button button-s button-primary">DOWNLOAD POST-GRADUATE COURSE OUTLINE</a>
What will be covered in the Foundation Course?
The Foundation Course, delivered in a 20hr program will provide an introduction to the neurobiology of pain and trauma and provide an insight into the therapeutic attributes and clinical applications of the aerial hammock apparatus. This course is a pre-requisite component to apply for the full 150hr PostGraduate Program.
What will I learn in the Post Graduate Online Theory Modules?
The online theory modules will provide detailed education on applied anatomy and physiology of Aerial Yoga Therapeutics, encompassing development and supporting research, yogic philosophy, yoga therapy, neurocognitive methodologies for movement education, programming for specific phases of physical and mental health recovery, multi-modal creative and therapeutic movement approaches and case studies.
What will I gain from the Post Graduate 10 Day Intensive Practical Module?
he 10-day practical intensive provides the opportunity to implement theory with experiential embodiment of the technique and develop expertise in facilitation. The intensive practical training is an essential component for the completion of the PostGraduate program and will provide participants with confidence in their ability to understand and implement the therapeutic benefits of the aerial technique within the realm of their existing professional scope.
How will this training benefit my studio or clinic?
After completion of the full PostGraduate Program, practitioners will be able to offer Therapeutic sessions using the aerial hammock within one's professional scope. Therapeutic sessions can be delivered in individual, duo or trio format as a complimentary service to incorporate with other modalities in your clinic/studio. This offers commercially viability in several ways, firstly it gives a point of difference by offering clients access to a unique healing modality that can support them during periods of rehabilitation and assist in injury prevention. Secondly, it enhances the personalized feel clients receive which can increase the return and loyalty. Thirdly, it utilises 'dead time' as these sessions can service a population willing to make time for sessions outside of peak time scheduling.
How will this course complement existing AntiGravity® Aerial instructor qualifications?
This course will provide the AntiGravity® instructor with comprehensive theoretical knowledge to masterfully apply the therapeutic aspects of the aerial hammock. Instructors will learn innovative ways to modify, adapt and appropriately deliver their existing knowledge of aerial curriculum to achieve more therapeutic results with adaptability to expand their services beyond 'fitness'.
This training will assist instructors in attuning a trauma-informed approach within the delivery of their public aerial fitness group classes. Instructors will also be able to provide a higher quality of care through gaining a deeper understanding of the treatment and presentation of common pathologies and knowledge of when and how to refer clients on for specialised care. This training will open opportunities to work in collaboration with multi-disciplinary clinical teams through developing an understanding of familiar clinical terminology in which to communicate with other health professionals.
How will the Course complement existing remedial or yoga qualifications?
This training fulfils the Yoga Australia guidelines for 150hr PostGraduate training which allows certified yoga instructors to apply through Yoga Australia for recognition of continued education to attain a higher level of instructor certification. The theoretical knowledge gained in this training is transferable between disciplines and will assist in deepening understanding of all mindful movement-based therapies.
Instructors will be able to introduce clients to aerial therapeutic applications that compliment other modalities by incorporating the benefits of joint and visceral decompression, promotion of circulatory health and development of mindfulness skills for reducing stress and anxiety using sensory meditations to support all stages and phases of a client's progression toward health and well-being.
What evidence is there to support the need for this training?
The aerial hammock apparatus first gained popularity in America as a fitness modality over 25 years ago and has since expanded around the globe becoming one of the top 10 exercise trends in many countries. Over the last decade in Australia and New Zealand, the aerial hammock apparatus has been successfully integrated into innovative physiotherapy practice as an adjunct to manipulative and clinical exercise therapies specifically effective with reducing symptoms of Lumbo-pelvic pain. It has also been widely used in professional sports and dance training programs where the therapeutic benefits of decompression, traction and movement re-education have been harnessed for both restoration and cross-training conditioning.
From a mental health perspective, the aerial hammock apparatus has also been successfully implemented as a somatic intervention in alleviating mental health related symptoms of chronic pain, PTSD and trauma and assisting in sensory information processing and developmental disorders.
As the Antigravity® Master instructor for Australia and NZ, Renae has personally trained over 1000 aerial instructors in this region, many of whom have interest in the therapeutic benefits of the modality and with professional backgrounds in Physiotherapy, Exercise Physiology, Chiropractic Therapy, General Medicine, Occupational Therapy and Mental Health. These professionals have consistently requested specialised trainings to help bridge the void between fitness genres of the aerial modality and the physical rehabilitation and trauma recovery applications.
Renae has also gathered other evidence in support of the need for Aerial Therapeutics in 2012 when she completed a Masters of mental health research project at the University of QLD investigating the modality's effectiveness in improving the well-being of youth with PTSD symptoms; in 2015 when Renae held an international conference for aerial instructors working in health related environments to share knowledge and most recently in 2018 she spent a 3 month period exploring the rehabilitative applications of this modality within a physiotherapy practice at Performance Pilates and Physiotherapy clinic in Perth. This course has been developed with the aim to fill the existing gap in trainings for the therapeutic applications of the aerial hammock modality.
Who will benefit most from attending the course?
Physical health professionals, exercise physiologists and movement instructors seeking to understand and facilitate the therapeutic qualities of the aerial hammock apparatus and learn trauma-sensitive approaches.
Mental health professionals and occupational therapists interested in integrating a somatic modality into their practice assisting sensory information processing and developing self-regulation within a trauma recovery context will also benefit from this course.
Where can I get suitable hammock and rigging?
We have a close relationship with AntiGravity® Australia, who distribute the Harrison AntiGravity® Hammock. We will provide contacts and information on rigging set-up options during course. There are many diverse options available relating to rigging including mobile frames.
What are the payment options for the 150HR Postgraduate Course?
Option 1:
Discounted Earlybird for Full Course Payment inclusive of Foundation & Post Graduate: $3990 ($500 Deposit with balance payable by April 1)
Option 2:
Foundation Course Investment: $390
Post Graduate Investment:
Secure your spot – $500 non-refundable deposit with payment plan: $4350 total – payable in 6 instalments (by June 30 – we will contact you once deposit is paid)
What is the refund and reschedule policy?
Payments for Aerial Therapeutics Courses are non-refundable for schedule conflicts and change of heart, so we ask you to consider your situation carefully when booking
About Course Presenter - Renae Stevens
Renae Stevens Qualifications:
Polestar Studio Rehab Instructor
AntiGravity® Master Instructor
Franklin Method Educator
Yoga Australia Registered Senior Yoga Teacher
Registered Yoga Therapist
Registered Mental Health professional (Art Therapy)
Renae holds a master's degree in Mental Health and is a registered Art Therapist experienced in trauma recovery. Renae is recognised by Yoga Australia as a Senior Yoga Teacher with 20 years of teaching experience. Her foundational years of study involved completing a full-time 3 year training specialised in Yoga Therapy at the Yoga Arts Academy in Melbourne, Circus Arts training in Beijing and Physiotherapy foundation studies in anatomy and physiology at the University of Queensland.
Renae has continued to diversify her skills in the movement healing arts over the last decade and is also certified as an AntiGravity® Master Instructor trainer, Polestar Pilates Studio Rehab instructor and Franklin Method Movement Educator.
Renae is a passionate advocate on the benefits of a multimodal therapeutic approach combining the creative and movement arts therapies and seeks to share these powerful tools with those interested in healing themselves and others.
Aerial Yoga Therapeutics Program 2020
Aerial Therapeutics 20 Hour Foundation Course
New Zealand: 27 -28 Jan 2020, Float Fitness, Mt. Muanganui, NZN (Only 12 Spots)
Brisbane: 1-2 Feb 2020, Bend&Fly Studio, West End, Brisbane (Only 19 Spots)
Perth: 28-29th March 2020, Performance Pilates & Physiotherapy, Leederville (Only 10 Spots)
Melbourne: 19 – 20th April 2020, Garden of Yoga, Northcote, Melbourne (Only 15 Spots)
Course Investment
Foundation Course: $390
BOOK FOUNDATION COURSE MELBOURNE
Aerial Therapeutics 150 Hour Post Graduate Course
20 week Online theoretical modules – Commencing May 1st, 2020
10 Day intensive practical modules – Commencing Sept 18 -27, 2020
Bend + Fly Yoga, West End, Brisbane
Course Investment
Post-Graduate + Foundation Course Upfront: $3990
Secure your spot – $500 non-refundable deposit
Or Payment plan $4350 – payable in 4 instalments (by June 30)