Make Aerial Yoga a Career with Industry-Leading Aerial Yoga Postgraduate
50HR Advanced Course / 100HR Aerial Therapeutics Course
Advance your aerial yoga instruction, harness the key therapeutic benefits of the aerial hammock, while learning how to make a career out of this beautiful modality.
This 150HR Postgraduate Course offers professional development for graduates of Aerials Essentials (or existing Aerial Yoga Teachers) and is comprised of the 50HR Advanced Aerial Yoga Teaching (includes Aerial Dance Module) and 100HR Aerial Yoga Therapeutics (includes Special Population Modules). This course is delivered in monthly 20hr modules involving theoretical online learning and in-person or live-stream interactive practical training.
Available in Person or 100% Virtually
50HR ADVANCED TEACHER TRAINING
This course takes you to the next level of skilled Aerial instructorship! Students will be captivated by your ability to speak the language of the aerial body and guide them safely toward advanced practices including aerial dance, flips and supported handstand inversions.
✔️ Instructor development in facilitation of advanced aerial curriculum
✔️ 16HR Aerial Dance Module with Aerial Artist Lauren Mason
✔️ Explore biomechanics and functional anatomy
✔️ Develop observational skills is assessment
✔️ Improve effective and corrective exercise cueing skills
✔️ Program design considerations for individuals and groups
✔️ Program design principles for pre-training, strength and recovery
✔️ Business marketing skills and personal branding development
Facilitated by Industry Experts in Aerial Yoga, Yoga Therapy, Physiotherapy, Rehabilitation and Business
100HR AERIAL THERAPEUTICS TEACHER TEACHING
Develop the skills to work therapeutically with special populations on a 1:1 basis and become masterful in adapting to the individual needs within your group classes. With contributions from expert facilitators in the fields of physiotherapy, psychology, occupational therapy and expressive therapy we will explore in-depth the theoretical background and practical applications of the aerial hammock for these special populations:
✔️ MODULE 1. Injury + Pain Management
✔️ MODULE 2. Women's Health
✔️ MODULE 3. Neurodiverse Children
✔️ MODULE 4. Mental Health
New Course Starts January 16th 2022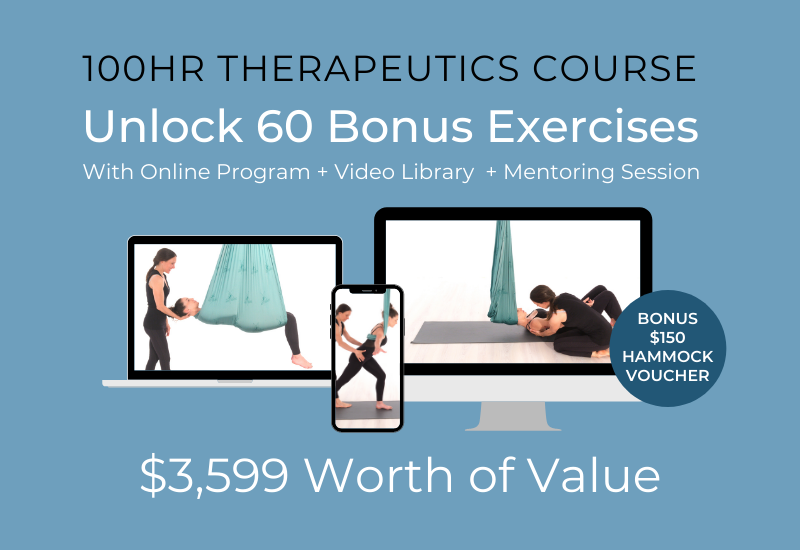 "There was so much invaluable learnings about the human mind and body! I feel forever grateful to Renae's influence and teachings!"
— Rachael Gibson, Aerial Teacher/Therapist
Personal Trainer Testimonial - Maggie Vukovic
"I really feel this course took me to a new level of knowledge, experience and quality in my PT business along with creating a new chapter of my professional career of using the hammock as a recovery/therapeutic apparatus. I found the 150HR Course very well designed, included different level of exercises and its progressions. It was also useful for anyone who is interested in helping people move better, improve posture, wellbeing and overall health habits. It definitely help me improve my delivery of training to clients during one on one and group training sessions."
Maggie Vukovic, Contracting Personal Training & Pilates Instructor, Brisbane QLD
Practicioner Testimonial - Anke Wagner
"Thank you for this beautiful & enriching course. With your professionalism and eye for detail you have set the benchmark for online learning in the Yoga/Pilates/ Fitness world!
The course not only teaches you exercises in a therapeutic format, it also educates you in a lot of other areas like anatomy, biomechanics, Yoga and Pilates as well. The rehab and remedial repertoire in the hammock gave me more ideas, skills and confidence to work with a new range of clients who are normally not on my scope of practice."
Anke Wagner – Pilates Practitioner, Rowville VIC
Studio Owner Testimonial - Catherine Nicolas
"The 150HR course has been a wonderfully enriching and enlightening journey into the world of aerial yoga for therapeutic application. Both fascinating and practical, Renae has created a comprehensive course which has equipped me with the skills to literally add a new dimension to my 1:1 Pilates and Aerial Yoga teaching. The value of the hammock in a therapeutic setting is enormous for working with both injuries and conditions, and for addressing mental health and trauma informed practice. Renae brings an incredible depth of knowledge and experience together with her calm and Centered delivery to inspire and educate.
I recommend this course for studio instructors working 1:1 with clients, and to other practitioners seeking to add a new skill set to their practice. Renae is inspiring and the course is beautifully put together so that it's interesting, the pace is great and the learning is enjoyable."
Catherine Nicolas – Owner of Embody Pilates, Castlemaine VIC
Postgraduate Facilitators
Lead Facilitator Renae Stevens
Renae holds a master's degree in Mental Health and is a registered Art Therapist experienced in trauma recovery. Renae is recognised by Yoga Australia as a Senior Yoga Teacher with 20 years of teaching experience. Her foundational years of study involved completing a full-time 3 year training specialised in Yoga Therapy at the Yoga Arts Academy in Melbourne, Circus Arts training in Beijing and Physiotherapy foundation studies in anatomy and physiology at the University of Queensland.
Renae has continued to diversify her skills in the movement healing arts over the last decade and is also certified as an AntiGravity® Master Instructor, Polestar Pilates Studio Rehab instructor and Franklin Method Movement Educator.
Renae is a passionate advocate on the benefits of a multimodal therapeutic approach combining the creative and movement arts therapies and seeks to share these powerful tools with those interested in healing themselves and others.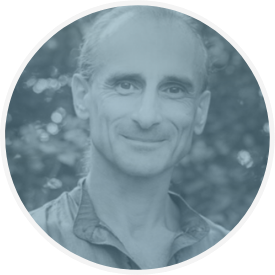 Simon Borg-Olivier (MSc BAppSc Physiotherapy)
Simon Borg-Olivier has been practicing traditional forms of posture, movement, breathing, and mental control for 50 years. He has been teaching for 38 years and has been a registered physiotherapist for 23 years.
Simon works as a research scientist and a University lecturer. He has been regularly invited to teach about lifestyle, posture, movement, breathing, and meditation at conferences, festivals, and intensive teacher training courses internationally since 1990
Simon will be facilitating 'program considerations & cueing for efficiency in key movements' in the 150HR Postgraduate Course
Simon Borg-Olivier is a Physiotherapist and International Yoga Presenter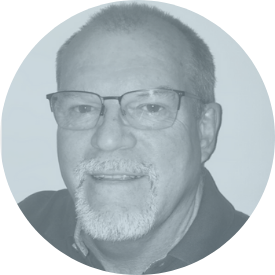 Mark Comerford (BPhty, MCSP Physiotherapy)
Mark Comerford has conducted and published research, lectured and practiced physiotherapy extensively for 30 years. Mark has established postgraduate courses in dynamic stability and muscle balance and presents worldwide in 20 countries and 7 languages. He also consults for various sporting and professional organisations around the world such as the Chicago Bulls.
Mark possesses a special interest in the development of clinically relevant models of movement analysis, retraining, and the understanding of pain's influence on movement, muscle function, and performance.
Mark will be facilitating 'injury/rehab considerations' in the 150HR Postgraduate Course
Mark Comerford is Principal Physiotherapist of Performance Rehab Physiotherapy, Brisbane QLD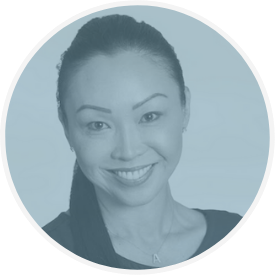 Audrey Ng (BPhty Physiotherapy)
Audrey Ng is a Polestar Pilates Principle Educator and certified Meditation, Vinyasa, Yin Yoga and Aerial Yoga Teacher. Audrey has lectured and practiced physiotherapy extensively for 30 years.
Audrey is the Director and Principal of Performance Pilates & Physiotherapy. Audrey has been incorporating Pilates in her physiotherapy treatments since 1998 and over the last 8 years has used the aerial hammock in innovative clinical application.
Audrey has been a mentor for Renae whilst completing her Polestar Pilates training and has been instrumental in assisting Renae in the creation of safety guidelines for therapeutic applications of Aerial Yoga.
Audrey will be facilitating 'movement principles' in the 150HR Postgraduate Course
Audrey Ng is Principal Physiotherapist Performance Pilates & Physiotherapy, Perth WA
Dr Sue Jackson
Sue Jackson has 30 years of extensive experience in research, lecturing and practice in psychological and meditative approaches. Sue has a special interest in working with individuals and groups to help them tap into their potential to find flow in their performance and in their lives. Sue's practice influences include ACT (Acceptance & Commitment Therapy), iRest Yoga Nidra, and Mind with Heart mindfulness training in education. Sue assisted Renae in understanding of the science behind flow states and how this applied to the therapeutic use of the aerial hammock. Find out more about Sue & Flow States here.
Sue is a guest facilitator in the Advanced Aerial Instructor Course on the subject of Flow-State.
Dr Sue Jackson is a Psychologist & Founder of Body & Mind Flow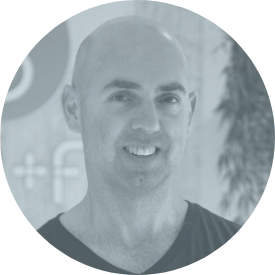 Dan Ross (Bcom)
Dan Ross is the owner of Bend + Fly, one of the most respected Aerial Yoga Studios in Australia. Dan has spent the last 25 years in entrepreneurial roles, establishing and growing respected multi-site businesses in telecommunications and the fitness industry.
Dan has strong expertise in all marketing activities from branding to lead generation and digital marketing. Dan also has a passion for team management and culture building.
Dan will be facilitating 'keys to business success' including all set-up information in the 50HR Advanced Course
Dan Ross is the Owner of Bend + Fly, Brisbane, QLD
Janine Murray
Janine Murray, has a Masters of Physiotherapy and a Postgraduate Certificate in Men's, Women's and Pelvic Health through Curtin University. Janine has worked in a variety of clinical settings in both Perth and London, and has developed a strong interest in helping women with incontinence, pelvic organ prolapse, sexual dysfunction, pelvic pain and through the pregnancy and post-natal journey.
Janine has collaborated with Renae to deliver the Women's Health Module in the Aerial Yoga Therapeutics Postgraduate course
Janine is a Physiotherapist and Women's Health Specialist
Course Pricing & Booking Details
---
Starts November, 2021
Or Payment Plan - 4 x $399/Month
early bird pricing ends
Oct 31 (save $100)
* Enrol in the virtual delivery of this course & receive a studio-quality Aerial Yoga Hammock Kit valued at $299
100HR AERIAL THERAPEUTICS COURSE
100HR Therapeutics starts January 2022
Or Payment Plan - 5 x $525/Month
* Enrol in the 100HR via Online/Live Streaming to receive a studio-quality Aerial Yoga Hammock Kit valued at $299
FULL 150HR POSTGRADUATE COURSE
50HR Advanced + 100HR Therapeutics starts November, 2021 (online opens)
Or Payment Plan - 8 x $475/Month
early bird pricing ends
October 31 (save $300)
* Enrol in the 150HR Postgraduate Course to receive a studio-quality Aerial Yoga Hammock Kit valued at $299